The FAB Awards — International Food and Beverage Creative and Effectiveness Awards — is pleased to announce the continuation of our partnership with Google UK Ltd for the sixth consecutive year.
Now in our 22nd year, FAB is one of the only Awards program focused entirely on work done for Food And Beverage brands and outlets. It recognises the critical contribution that outstanding creative work makes to building brands, it identifies and rewards the leading practitioners from all over the globe, and it acknowledges their contribution to their Clients and their Agencies.
The Awards have taken entries from many Clients, every leading Agency Network, Design Consultancies and many important Challenger Agencies from over 60 countries around the world.
The deadline for entry submissions for The 22nd FAB Awards is March 7th, with judging set to commence at the end of March. Keeping in line with tradition, The Awards will culminate in a grand ceremony at London's exclusive Hurlingham Club on May 20th, 2020.
FAB revealed a Brand Refresh and New Identity for The 22nd Year. Branding and Visual Identity for all The FAB properties has been done by leading Brand Consultancy – Williams Murray Hamm.
As part of their partnership YouTube will once again sponsor the 'Agency of the Year' and 'Brand of the Year' Awards, which were won by BBDO New York and Mars, Incorporated respectively, last year.
Major winners from 2019's Awards included the likes of: AMV BBDO, BBDO New York, Ingo Stockholm, Design Bridge, Turner Duckworth, B&B Studio, Buddy, Williams Murray Hamm, BrandOpus, Cossette Canada, CADA Design, ButterflyCannon, McCann India, Leo Burnett, FCB Ulka, Distil Studio, Design LSM, Taxi Studio, PepsiCo, Mars, Burger King, Starbucks, Cadbury's, Kit Kat, McDonald's, Nestle, Carlsberg, Coca Cola, Heineken, Kraft Heinz, Pernod Ricard and Diageo.
Google will once again act as co-host of The FAB Forum, which is an invite-only event that brings together brands, creatives, media and tech to shine a light on thought leadership and innovation from the Food & Beverage industry.
The FAB Forum will be held a day before The FAB Awards on May 19th, 2020 at Google's St. Giles Venue, so as to bring a more in-depth and 'meaty' offering to the attendees of both the events.
At last year's Forum, attendees heard keynote speeches from industry leaders such as: Jonathan Ford (Pearlfisher), Uttara Masting (jkr), Brad Guin (Jellyfish), Elisabeth Dien and David Benson (Google), Anaiis Hayes (YouTube), Katrina Dodd (Contagious), Adam Wroblewski (PepsiCo), Elena Edwards (Graze), Freya Twigden (FIX8) and Ruth Anslow (Hisbe).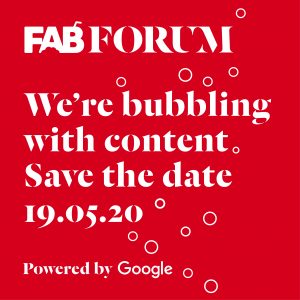 Source: The FAB Awards